Netflix Rs 199 Plan – Netflix have Announced Cheap Mobile-Only Plans
Netflix is the World's Best and Costliest Video Streaming Service. Although it is World's Largest Platform, still Indian Audience do not Prefer Netflix as it is so much Costly. In India, and even outside, Amazon Prime Video has got a Huge Number of Subscribers. Also, as Prime Video is Owned by Amazon, it's much more Convenient to the Users. Because of these issues, Netflix has thought to Lower the Price of their Monthly Membership. Netflix has got Monthly Billing System, that's why they Struggle to be in the Indian Market and at the same time, the Price is also Very High. "Most of the Indian Viewers use their Mobile to Stream Netflix and Prime Video, so the Netflix Rs 199 Plan will be a Game Changer", Says Netflix. Check Out All the Details about the Netflix Cheap Mobile-Only Plans Below…
All About Netflix in India
Netflix in India is not that much Popular TBH. The Reason in also Simple, the Price!! In India, most of the People are not Aware of Online Media Streaming and that's why they don't actually watch Netflix and Stuff. Also, the Dollar to Indian Rupees Value is also Quite High. So, Netflix could be not so much Costly in the USA or other countries, but India it's Quite High. However, Amazon Prime in India is Worth the Money in India as the Price ( Rs 999 ) is Quite Low and the Features are Awesome. Amazon Provides Fast Free Delivery in Amazon App and Videos on Amazon Prime Video App. But, Netlfix with Rs 799 Per Month, only Provides Videos. Although there are Three Plans for Netflix, Rs 499, 649 and 799, Cheap Packages Lack few Features. Like, there's No HD Available for the Rs 499 Plan. Also, there are some other Drawbacks too. So the Netflix Rs 199 Plan is Supposed to help the Indian Consumers.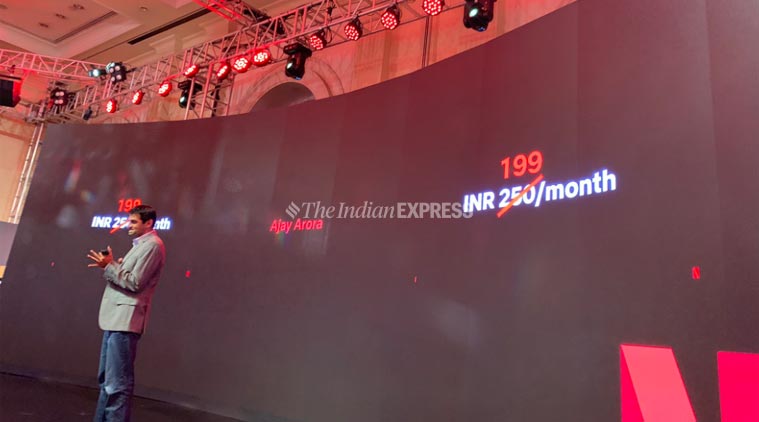 Also, Read – 5 Best TVF Shows Which You Should Not Miss
Netflix Rs 199 Features
Basically, the Netflix Rs 199 Plan is Targetted for Mobile users in India. Most of the India People have Mid-Range Phones which doesn't Support Widevine L1 (Hardware for HD 1080p Streaming). So, the Cheapest Plan is Designed According to them.
Pros.
Standard Definition ( SD ) Media Streaming
Available only for Mobile/Tablet
Unlimited Films and TV Programmes
Cancel at any Time
First Month Free
Cons.
Only for Mobile Devices
Only One Screen at a Time
HD Streaming Not Available
Comparison with other Plans
Other Plans of Netflix India Starts from Rs 499 ( $7.25 ), which is a Big Deal. And this is a Pretty Large Amount. At the same time, it is Per Month Plan, so it's gonna cost you more than Rs 6000 Per Year Just for Video Streaming. At this point, Amazon Prime is Quite Worth it at Rs 999 ( $14.5 ) only. And this is for the whole year. You can watch on Amazon Prime for 5 Years with Rs 5000.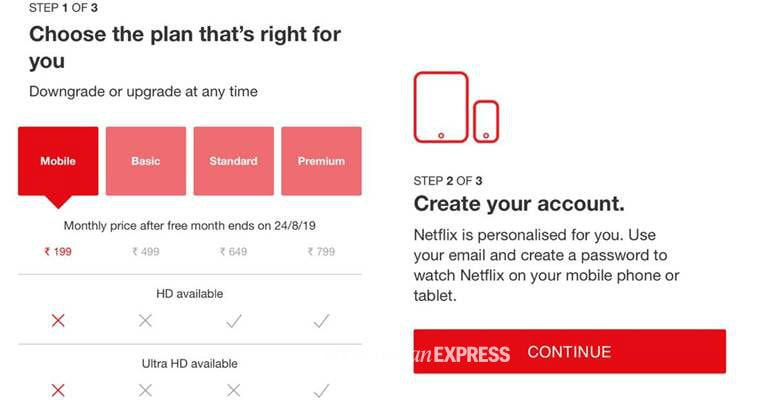 Conclusion – Should you buy Netflix Rs 199 Plan?
In Short – "No". To be honest, it's Much More Worth if you Buy Amazon Prime. But if you are Highly Addicted to Netflix and have to buy that at any cost, go for the Rs 799 Plan with your 4 Friends. And Don't Worry about the 4 Screens at a Time, as nobody will Watch at the same time. So, do this if Possible 🙂